This recipe was contributed by Maya Nahra!
This sunflower seed pumpkin butter is a perfect snack, dessert or add-on to any dish. Healthy and low in sugar, this recipe is free of dairy and gluten and is also paleo.
There are three types of commonly used sunflower seeds: linoleic (most common), high oleic, and NuSun. Each variety has its own unique levels of monounsaturated, saturated, and polyunsaturated fats. The information in this article refers mainly to the linoleic variety.
For commercial purposes, sunflower seeds are usually classified by the pattern on their husks. If the husk is solid black, the seeds are called black oil sunflower seeds. The crops may be referred to as oilseed sunflower crops. These seeds are usually pressed to extract their oil. Striped sunflower seeds are primarily used for food; as a result, they may be called confectionery sunflower seeds.
Wikipedia.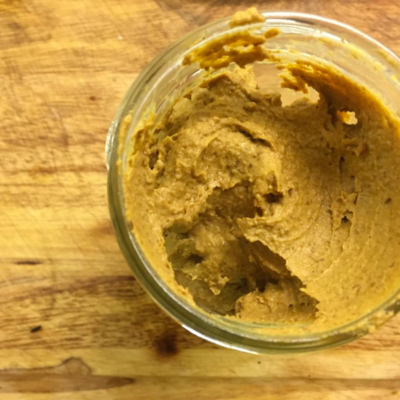 Sugar Free Sunflower Seed Pumpkin Butter
Ingredients
2

Cups

Raw sunflower seeds

1

Tbsp

Coconut oil

1

Tbsp

Vanilla extract

2

Tbsp

Pumpkin pie spice

1

Tsp

Cinnamon

8-10

Drops

Liquid stevia

Optional

1/2

Cup

Coconut oil

1

Can

Organic pumpkin

Unsweetened
Instructions
Set oven to roast setting at 500 degrees.

Spread raw seeds over a baking sheet and drizzle with the tbsp of coconut oil.

Roast seeds in the oven until fragrant and beginning to brown. WARNING: Seeds go will burn quickly, be sure to watch them. They will continue to roast even out of the oven. This process will take no longer than 5-10 minutes depending on your oven.

Allow seeds to cool. Then, add then to a food processor or blender.

Add the 1/2 cup coconut oil and spices and blend until your nut butter forms.

Add the pumpkin and blend until just combined.

Store in an air tight container in the fridge.