This delicious recipe was contributed by our Physician Assistant, Gabrielle Wudarski, PA-C.
When transitioning away from dairy, a good milk replacement is key. There are now whole sections in the grocery store designated for non-dairy milk!
But I have found the store-bought brands just didn't taste as appealing to me, so as a natural problem solver I set out on a mission for better tasting (and healthier) milk. Store bought nut milks can contain many preservatives and inflammatory oils to extend their shelf life. This almond milk has a base of two ingredients – and two extras if you like it sweet!
It's perfect for a busy weekday or laid-back weekend- just soak your almonds overnight or throughout your day, blend, and you've got homemade, delicious almond milk. I like to use mine in smoothies or to make an almond milk latte at home. Use it quickly because without preservatives it lasts for about 5 days. 
To get started, you'll need:
Blender
Pitcher
Nut bag or cheese cloth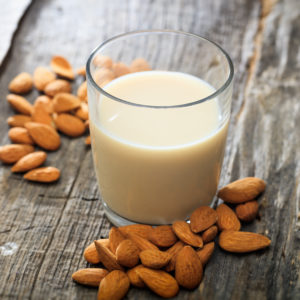 Almond Milk
Ingredients
1

cup

raw almonds

organic if possible

water

2

tbsp

 pure maple syrup

optional

1/2

tsp

vanilla extract

optional
Instructions
Cover almonds with water in a bowl and allow to soak for at least 4 hours

Add almonds into the blender up to the blades and add 4 cups of water

Blend on high for 2 minutes

Pour blended almonds through a nut bag or cheese cloth into your favorite pitcher

Store in the refrigerator!